London
CNN
 — 

David Carrick, a serial sex offender, served in one of Britain's most elite armed police units for years. He is now behind bars, but his ability to evade justice has only fueled a growing distrust and anger toward police in the United Kingdom. CNN has investigated how failures may have prevented Carrick from being stopped sooner.
Carrick joined the ranks of Britain's worst serial sex offenders in January when he pleaded guilty to raping multiple women over a period of almost two decades. Throughout this time, he was an officer with London's Metropolitan Police Service, and for most of it an armed one, working in an elite unit that protects high-profile UK government buildings and ministers.
After Carrick pleaded guilty to a total of 71 sexual offences, the Met Police admitted there were nine "missed opportunities" when he had previously come to its and other forces' attention, although he was never charged with a criminal offense.
Those nine "opportunities" spanned decades. Between 2000 and 2021, Carrick was accused of multiple crimes including burglary, harassment, assault and rape.
As yet, no police officer has faced any consequences for failing to spot or stop Carrick's pattern of abusive behavior.
CNN has spoken to more than a dozen police officers from multiple forces in England and examined the Met's own guidelines on handling misconduct, to identify how Carrick's abuse could have been prevented.
An investigation into the nine incidents has found at least two occasions, in 2019 and 2021, when the Met Police did not follow those guidelines, leaving Carrick's violent and degrading treatment of women to go unchecked, and him free to meet further victims.
He was finally arrested on suspicion of rape in July 2021. Darciane Nunes da Silva, who had met Carrick in February 2020, reported him at a police station outside of London after months of sexual abuse. Carrick was placed on restricted duties and his gun was removed, but he was not suspended.
After a month, Nunes da Silva withdrew the allegation, later telling CNN she didn't feel believed by the police. As a result, Carrick was allowed to prepare to return to full duties, which would include carrying a gun as a police officer on the streets of the British capital. Nunes da Silva waived her legal right to anonymity to share her account with CNN.
It was only when another woman came forward in October 2021 to report Carrick for rape that he was finally charged and Nunes da Silva decided to reopen her case.
But Nunes da Silva might never have encountered Carrick if the Met Police had handled previous complaints against him differently.
In September 2019, just five months before they met, a neighbor saw him grab a woman by the neck and called Hertfordshire Constabulary, the local police service. The incident was flagged to the force's domestic abuse team but later marked as "no further action."
Hertfordshire Constabulary told CNN it sent a crime report on the incident to the Directorate of Professional Standards (DPS), the department at the Met Police handling complaints of police misconduct.
CNN analyzed the DPS' Standard Operating Procedures: Each complaint has to meet a certain threshold of severity to be considered misconduct. This includes behavior that "amounts to a criminal offence," which could be considered applicable to grabbing a woman's neck.
If the complaint involves a "serious assault by a member of the police service" it must be referred to the Independent Office for Police Conduct (IOPC). This did not happen.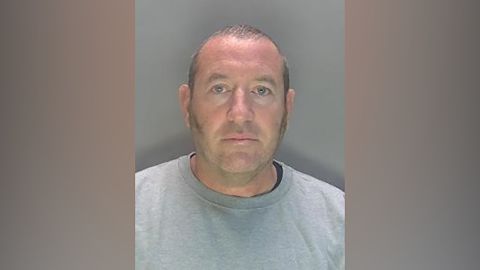 Nusrit Mehtab, a former Met Police officer who worked closely with the DPS, says the report "should have been taken seriously" because Carrick was carrying a gun and the reported incident indicated domestic abuse. She told CNN it "should have been escalated" to higher management.
Hertfordshire Constabulary has told CNN that the victim involved in the 2019 incident has "recently contacted" the force since Carrick's sentencing, with allegations against him that are now "being investigated."
The man in charge of the DPS at the time was Deputy Assistant Commissioner Matthew Horne. Horne was himself found to have committed gross misconduct for bullying and threatening staff prior to joining the DPS. He was then accused of trying to access information on the misconduct investigation into him.
It is not clear if Horne was aware of the accusations against Carrick but police sources told CNN that in his role he should have been. CNN has reached out to Horne for comment but is yet to receive a reply.
Horne's appointment to the DPS was later questioned in the UK Parliament, with one politician asking the Met's then-Commissioner Cressida Dick whether it was "wise" to appoint him given the role requires "a higher-than-average level of integrity and reputation."
By the time Nunes da Silva submitted her complaint about Carrick in 2021, the 2019 incident in which he was accused of grabbing a woman's neck would have been discoverable on the DPS database known as "Centurion."
In the DPS' Standard Operating Procedures, the first step upon receiving a complaint is to "check Centurion for previous complaints." If this process had been followed, CNN has established the 2019 incident would have been flagged on Carrick's record.
CNN asked the Metropolitan Police if anyone from the DPS did search for previous complaints against Carrick when Nunes da Silva made her allegation, but received no answer.
Even when Nunes da Silva withdrew her allegation, a not unusual occurrence in sexual assault cases, the police could have continued proactively to investigate Carrick's behavior, particularly given the severity of the alleged offense.
Nunes da Silva's experience with the police may point to a wider issue. Metropolitan Police data shows that between 2010 and 2021, only two police officers out of a total of 573 accused were charged with rape or sexual assault after a public complaint was brought against them.
Notably, Nunes da Silva brought her complaint at a time when police were aware of intense public scrutiny of their actions toward women. Earlier that year, police officer Wayne Couzens had brutally kidnapped, raped and murdered Sarah Everard, in a case that horrified the nation, prompted public protests and sparked a national debate about violence against women. Couzens served in the same elite police unit as Carrick for two years.
Questions over the handling of Carrick's case reached the desk of London Mayor Sadiq Khan. After learning of Carrick's arrest and the fact he was in the same unit as Couzens, Khan told Dick, the then-Met Police chief, that his case should be prioritized. It was the latest in a series of policing scandals that would eventually lead to her resignation in 2022.
CNN spoke to other members of the unit to which Carrick and Couzens belonged, known as the Parliamentary and Diplomatic Protection Group or PaDP. One current member, who spoke to CNN on condition of anonymity because they were not authorized to speak to the media, had worked with both of them and said other officers had no "inkling of any of it" and feel distraught about what has happened.
Another former colleague who has since retired from the police, Nathan Bush, told CNN the news about Carrick had made him "question probably every single person he worked with" and led him to wonder "was the banter too much?" He added: "It still baffles me how a monster was able to wear that uniform."
That "monster" became clear during Carrick's sentencing when Judge Bobbie Cheema-Grubb read out evidence concerning a small extent of his abuse. The court heard how he had threatened victims with his firearm, sending one a photo of his weapon with a message reading, "remember I am the boss."
As punishment, he shut her naked in a small cupboard under the stairs in his home, "and would stand and whistle outside."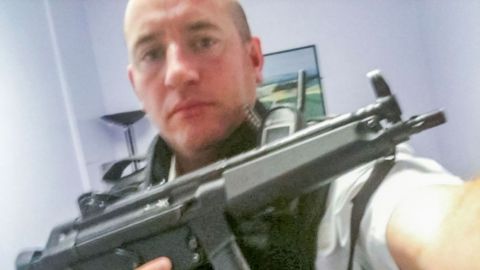 In a disturbing update, two officers from PaDP contacted one of Carrick's victims and have since been placed on restricted duties while they are investigated for misconduct, the Met Police said. One officer contacted the victim in the days following Carrick's arrest in October 2021. Sky News reported that the officers had been sending "sexually suggestive" messages to the victim.
Efforts have been made to restore trust in the Met Police since the news on Carrick broke. The current commissioner Mark Rowley, has apologized profusely for the force's failure to stop Carrick sooner. Meanwhile, the UK government has added the handling of Carrick's case to an ongoing non-statutory inquiry examining Couzens' crimes.
Rowley also announced that the Met Police was reviewing previously completed cases involving 1,071 police officers and staff who were flagged for sexual offenses.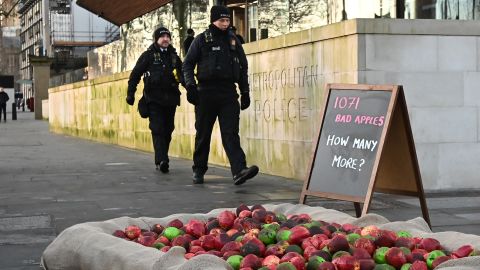 Separately, the IOPC has announced it will be reviewing police handling of Carrick's case, having said previously that no officer was being investigated for misconduct. CNN reached out to the Met Police for this investigation and they referred us to their existing statements on Carrick. They said they would not be commenting further while there are government reviews ongoing into the handling of the case.
Carrick was given 36 life sentences for his years of abuse in February. He will spend a minimum of 30 years in jail. During his sentencing Judge Cheema-Grubb told Carrick he had behaved as if he were "untouchable."
Since then, more potential victims have come forward to the police, Hertfordshire Constabulary confirmed to CNN. And the Centre for Women's Justice, a legal charity representing women abused by Carrick, told CNN that several of them are now considering bringing a class-action lawsuit against the Met Police.
The crisis at the Met and the public disgust at offenses carried out by its officers show no signs of abating.
CORRECTION: A previous version of the timeline in this story contained a duplicate entry. It has been updated to correct the 2019 entry.