CNN
 — 

The seventh episode of Netflix's "Full Swing" is named "Golf is Hard." It could easily serve as the title for the series itself.
Taken literally, it could refer to how golf's latest fly-on-the-wall show, documenting the 2022 PGA Tour season, shows just how difficult it is to win even a single tournament, let alone multiple or a major.
In the case of Matt Fitzpatrick, US Open triumph – his first PGA Tour win no less – proved the ultimate payoff to a dogged commitment to self-improvement, the reward for countless hours spent pouring over data and spreadsheets.
Dubbed the hardest working player in the men's game, the 28-year-old Englishman is shown to have logged details of his shots since the age of 15. Trawling through a plastic box stacked with yardage books, Fitzpatrick estimates he has recorded over 7,000 swings from both competitions and the driving range.
Yet Rory McIlroy, despite a season featuring some of the best performances of his sparkling career, could not clinch a fifth major that has eluded him for over eight years.
McIlroy is the main character of the series' eighth and final episode, which includes a sideline perspective of the Northern Irishman's heartbreaking falloff in the final round of the Open Championship.
But "Golf is Hard" could also reference just how tough the sport is mentally on its biggest stars. Many of the show's most compelling scenes are not of the golf itself, but instead those that allow viewers to peer into the psychological state of professional athletes navigating the pressures of elite sport.
Emotional strains are shown manifesting differently for golfers at different stages of their career.
While rookie Sahith Theegala suffers the mental torture of an agonizing near-miss in the pursuit of his maiden win, Ian Poulter – into his 23rd season on the PGA Tour – contemplates his future in a field being frequently bossed by players half his age.
Just two months into his debut year after a prodigious US college career, Theegala tied for the lead at the Waste Management Phoenix Open in February 2022, with just two holes to play. But after a bogey at the 17th, a dejected Theegala trudged off the final green one stroke short of making the playoff – eventually won by Scottie Scheffler.
Fighting back tears in his press conference, after he finished answering questions cameras captured the rookie collapsing into the arms of his parents. Their efforts to console their distraught son – "It's okay, it's okay, you'll get your day soon" – make for scenes as heartbreaking as they are touching.
"Sometimes you become a better player by failures," says Theegala's father Murli in the show.
"So I felt that maybe that's great for him that he didn't win. Psychologically, I feel like because there's that hunger in him that he can still play well."
"But I told him, 'Hey, winning is not easy. It (losing) makes you stronger.' I'm really, really proud of what he's accomplished."
Meanwhile, the "will he, won't he" narrative around Poulter potentially joining the breakaway LIV Golf Series is framed around his desire to "maximize" his potential given his veteran status on the Tour.
His frustrations are in full view after a defeat to Fitzpatrick, one that deals a crushing blow to Poulter's hopes of making The Masters. Facing his young English compatriot in a match-play event – a format at which Poulter is renowned for his proficiency – he is beaten decisively.
Upon returning to the locker room, Poulter's frustrations boil over as he screams and throws his clubs. The 46-year-old later becomes one of the first to sign up for LIV Golf, which offers guaranteed prize money, in spite of the decision potentially ending his chances of captaining Team Europe at the Ryder Cup – a tournament he adores.
"People ask all the time, don't you have enough (money) already? But that's all relative," Poulter says in the episode.
"I treat my golf as a job, and I want to obviously maximize every bit of my potential over the coming years."
Somewhere in between Poulter and Theegala is Tony Finau, a five-time PGA Tour winner balancing his career with family responsibilities. As the show poses the question of why the American, given his talent, hasn't lifted more silverware, the spotlight is turned on his close proximity to his family.
For the majority of the 2022 calendar, Finau traveled to events with his family, a decision prompted by the passing of his wife Alayna's father. The golfer's commitment to his partner, as well as his attitude to golf, is shown to be rooted in the loss of his own mother, who died in a car accident in November 2011, a day before Finau's son was born.
"There's always a special person in my life that's never able to be here … I had a pretty amazing mom," an emotional Finau says during a speech at an event for the foundation he has set up in his home of Salt Lake City.
"I feel like I just have to show the world not only what a great player I am, but the person I was raised to be."
That attitude gives Finau conviction in how he has balanced his priorities, despite his reputation as the nearly-man of golf following an array of strong – but ultimately fruitless – major showings.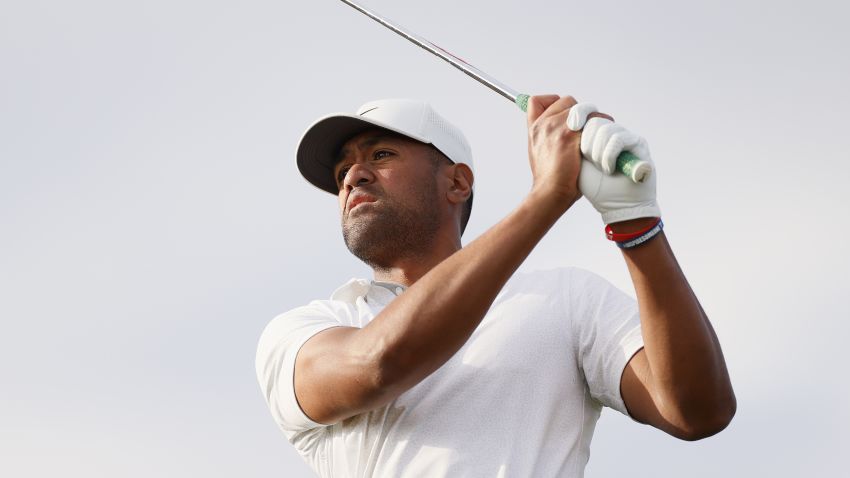 Tony Finau's quest for his debut major
The episode juxtaposes his career with that of two-time major champion Collin Morikawa, who travels predominantly alone and discusses the benefits of being "selfish" while pursuing success. "I don't have the family that Tony has. He's got five kids, and I'm just learning how to travel with a dog," Morikawa says.
But Finau holds his ground. "My career means a lot to me. And at times I think we can mistake that it means everything," Finau says.
"I knew what my wife was going through. It was more important for me to be there for her … than really be anywhere else.
"Could my game have taken a backseat? Maybe. Potentially. But that's not nearly as important to me as my wife."
It makes for a fairytale ending to episode six when Finau – wearing green in honor of his mom – wins in front of his family for the first time on the PGA Tour at the 3M Open, before immediately following it up with triumph at the Rocket Mortgage Classic a week later.
By contrast, four-time major champion Brooks Koepka wrestles painfully with his loss of form, triggering a confidence crisis that has a profound impact on him.
A historic run of back-to-back major defenses between 2018 and 2019 established Koepka's name in the golfing history books, but multiple injuries have contributed to his falloff in recent years.
For an athlete who frames winning and losing as "life and death," the subsequent mental torture is all-consuming, even when far away from the course with his wife Jen.
"I used to be good at getting away from the game at home," Koepka says.
"But lately, I cannot figure out how to f***ing turn it off cause I've been playing so bad. This f***ing thing can consume you.
"Jen will be talking to me, and I'm thinking about my damn golf swing. It's one of those things – I've probably lost confidence a little bit. So if you lose confidence, it's kind of tough to get it back just immediately."
Desperate to clear his mental block after an "embarrassing" missed cut at The Masters, Koepka cites the contrasting example of Scheffler, who is tearing up the Tour with multiple wins.
"I guarantee if you ask him what he's thinking about, he goes 'nothing,'" a despairing Koepka laments.
"The best player in the world doesn't have any damn thoughts in his head, so why would you? So if Scottie isn't doing it why the hell am I doing it?
"I've got to win, man. That's the whole name of the game."
Not for Joel Dahmen it isn't. The polar opposite of the brooding Koepka, the self-depreciating "goofball" of the PGA Tour insists he will never be good enough to crack the top 10, let alone win a major.
"It's not like I don't try and I don't practice. But someone's got be the 70th best golfer in the world. Might as well be me," Dahmen says.
"I'm a middle of the road PGA Tour player. The top players … they're just built differently. They're mentally just different. They hit it further and they chip and putt better. I'm not a threat when I walk into these things, really.
"I am not going to be a hall of famer. When I retire from golf, no one's going to remember who I am. I understand that, I'm fine with it. I'm not playing for legacy. Some people are like, 'That's why you'll never be great Joel, coz you don't believe it.'"
The reason Dahmen doesn't share Koepka's life and death attitude to golfing success is shown to be rooted in two life-changing events. As a junior in high school, Dahmen lost his mother to pancreatic cancer – a death that left him directionless, "a leaf in the wind."
In 2011, aged 23, Dahmen was diagnosed with testicular cancer. However, it was caught early and he was back playing golf the same year.
"I think myself having cancer probably changed my life for the better," Dahmen says.
"Not take life for granted, try your best and do all the right things. Maybe a blessing in disguise."
An excellent 10th place at the US Open, his best performance at a major, ensures an uplifting end to the episode on Dahmen, a change in rhetoric suggesting he had begun to chip away at his imposter syndrome.
"My best golf is very good golf. I can compete against the best in the world," he says.
Filming has already begun on season two, Netflix and the PGA Tour announced Tuesday, with cameras in place at February's Waste Management Phoenix Open to capture Scottie Scheffler's defense of his title.
Following a new group of players, the second season "figures to capitalize on what made the launch of the docuseries so relatable, capturing not just the victories but also the heart-wrenching close calls," a press release from the PGA Tour said.
In essence then, "Full Swing" looks set to repeat its message: "Golf is Hard."