CNN
 — 

Russian President Vladimir Putin signaled a potential willingness to assist North Korea in developing its space and satellite program Wednesday, as he gave Kim Jong Un a tour of Russia's vast Vostochny space launch site ahead of expected arms talks.
When asked by a reporter whether Russia would help North Korea launch its own satellites and rockets, Putin responded: "That's exactly why we came here."
"The leader of North Korea shows great interest in space, in rocketry, and they are trying to develop space. We'll show our new objects," Putin said at the Vostochny Cosmodrome, in Russia's far east Wednesday. "We'll talk about all the issues without haste, there is time."
Putin's comments hint at deepening ties with North Korea, which US officials have warned could see Pyongyang supply weapons for Moscow's use in its faltering Ukraine war in exchange for sanctioned ballistic missile technology.
Video released by the Kremlin Wednesday showed the two leaders shaking hands before touring the space center and adjoining rocket complex, where launch vehicles are assembled and tested, according to Russian state media.
North Korea has made space technology a priority – but has some ways to go, having tried and failed twice this year to launch a spy satellite into orbit.
Kim has also stressed the role of military satellites as a means to protect national safety and territorial stability and has spoken of their strategic value when deploying military force preemptively, North Korean state media reported in April.
Providing this technology to North Korea would be in violation of international sanctions, aimed at hampering Pyongyang's ability to build a fully functioning nuclear weapons and ballistic missile force.
The talks, which lasted just over an hour, focused on "economic cooperation, humanitarian issues, and the situation in the region," Putin said.
Kim said the two countries have "many issues" that they can cooperate on. He praised Russia for having "stood up against the hegemonic forces" to defend its sovereignty and security – a veiled reference to the US and the West – and said he has expressed "the full and unconditional support to all that Russia does in response."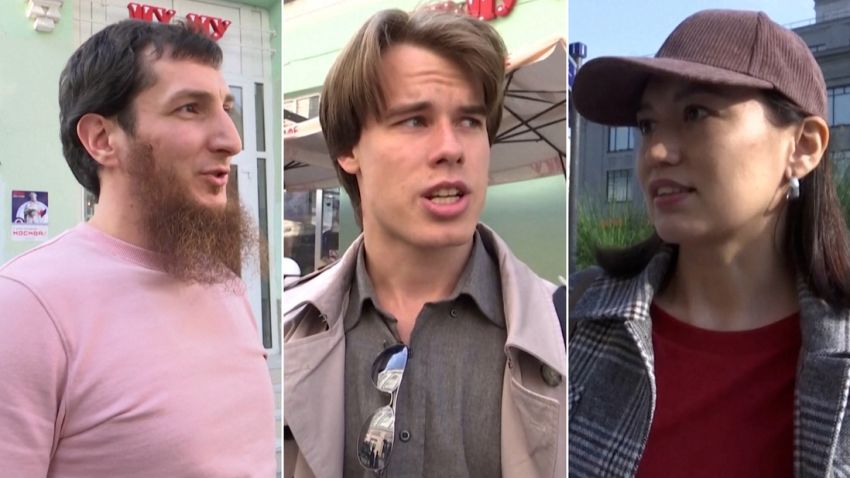 Hear what people in Russia think about Kim Jong Un's visit
"And that in the frontline of anti-imperialism and independence, I will always be standing with Russia, I'm using this opportunity to make it clear," the North Korean leader said.
Following the talks, Kremlin spokesperson Dmitry Peskov said there were no plans to sign documents, according to Russian state media.
"The full range of relations implies dialogue and interaction in sensitive areas, such as military interaction, the exchange of views on the most pressing issues in the field of security," Peskov reportedly said.
Why it matters that Putin and Kim are meeting at a space center

During the tour, the two leaders inspected the complex where Russia plans to launch its next generation of spacecraft.
The facilities were built to receive launch vehicles, conduct pre-launch preparations, launches, and post-launch operations, state news agency TASS reported.
Analysts say the location of Wednesday's summit at the space center is significant.
"Meeting at Russia's eastern spaceport is particularly provocative because it suggests that Putin may offer sanctions-violating satellite launch technology in exchange for North Korean munitions that Moscow would employ in its illegal war in Ukraine," Leif-Eric Easley, professor of international studies at Ewha Womans University in Seoul, told CNN.
Moscow in need of fresh supplies of ammunition and shells after more than 18 months of war in Ukraine has left its military battered, while North Korea, which has faced years of international sanctions over its nuclear weapons program, is short of everything from hard cash and food to missile technology.
North Korea has also signaled the meeting will deepen ties between the two countries.
Kim arrived in Russia on Tuesday aboard his heavily-armored private train accompanied by party and military leaders, according to photos shared by North Korean state media.
During a stop at the border town Khasan Tuesday, where Kim was welcomed by Russian officials, the North Korean leader said his trip to Russia was a "clear manifestation" of North Korea "prioritizing the strategic importance" of Moscow-Pyongyang relations, state media reported.
Former US National Security Adviser John Bolton warned Tuesday that the meeting between Putin and Kim is "quite significant," and "goes well beyond a potential arms deal."
"From North Korea's point of view, this gets them back into really significant contact with Russia for the first time since the collapse of the Soviet Union," Bolton told CNN.
After the talks, Kremlin spokesperson Peskov said "North Korea is our close neighbor," according to state media.
"And despite any comments from the outside, we will build relationships with our neighbors in a way that is beneficial to us and our neighbors," he said.
Among Kim's delegation are his second-in-command of the military, Ri Pyong Chol, a target of US and UN sanctions for his role in leading the country's ballistic missile programs as the former head of Department of the Munitions Industry, photos from KCNA show. His sister and high-level official Kim Yo Jong was also seen standing alongside her brother while he signed a guest book.
Accompanying Putin is Russian Defense Minister Sergei Shoigu, who visited Pyongyang in July. Putin told reporters Wednesday that Shoigu "was well received" in North Korea and "we have a lot of questions."
Hours before the summit, North Korea launched two short-range ballistic missiles from the Sunan area between 11:43 a.m. and 11:53 a.m. local time, into the waters off the east coast of the Korean Peninsula, South Korea's Joint Chiefs of Staff (JCS) said.
The two ballistic missiles fired by North Korea Wednesday morning each traveled about 650 kilometers (400 miles) before falling into the sea, according to the JCS.
US and South Korean intelligence authorities were analyzing further details of the launch, said the JCS which called it "a significant provocative act" that threatens peace and stability of the Korean Peninsula as well as the international community."
Analysts say it's unusual for Pyongyang to conduct a launch while Kim is out of the country.
North Korea may be intending "to show that the military maintains readiness with uninterrupted command and control," Easley said.
"It is also remarkable that North Korea fires missiles subject to UN sanctions while Kim is in Russia to meet with the leader of a permanent member of the Security Council," Easley added.
Ankit Panda, a senior fellow with the Nuclear Policy Program at the Carnegie Endowment for International Peace, said the launch was "a notable development."
"Beginning in 2019, Kim started to generally grow more hands-off on testing and exercises, with many launches taking place without his apparent presence. This launch could have been carried out under standing orders," Panda said.
"It further comes at a time when we've started to see North Korea make some moves toward a more delegative form of nuclear command and control with the introduction of tactical nuclear weapons."