Russia launched a total of 95 missiles of various types over the past day — 34 of which were intercepted — the General Staff of the Armed Forces of Ukraine said in a morning update on Friday, as well as a number of Iranian-made Shahed drones.
Nearly half a million people are without power in Kharkiv, Ukraine's second-largest city, following the latest barrage of strikes, according to the regional governor.
And there are concerns about how effectively Ukraine can stand up to such bombardments.
But aerial strikes like these are not going to win Russia the war, Western experts say.
"There is a long history of nations trying to win wars through strategic bombardment, to break the will or capacity of an opposing state to resist," Justin Bronk, senior research fellow for airpower and technology at the London-based Royal United Services Institute (RUSI) think tank, told CNN. "It has an incredibly poor record of success."
Russia's limited stockpiles mean it's unlikely they will force a major breakthrough in the war through the skies, so long as its air force is unable to gain supremacy above Ukraine.
New strategy?: The use of so many different weapons systems in one night has increasingly become Russia's preferred method of striking through the skies, but with larger gaps between the raids, Bronk said.
The use of hypersonic missiles in particular follows the Kremlin's years-long push to equip its military with such weaponry – a move that the United States and the West has been less keen to adopt, given the trade-offs in pursuing hypersonic capabilities.
"What you get is a missile that is much harder to intercept and gives your opponent much less warning. What you lose is that it's much more expensive, and often can only be carried by a much more limited number of platforms," Bronk explained.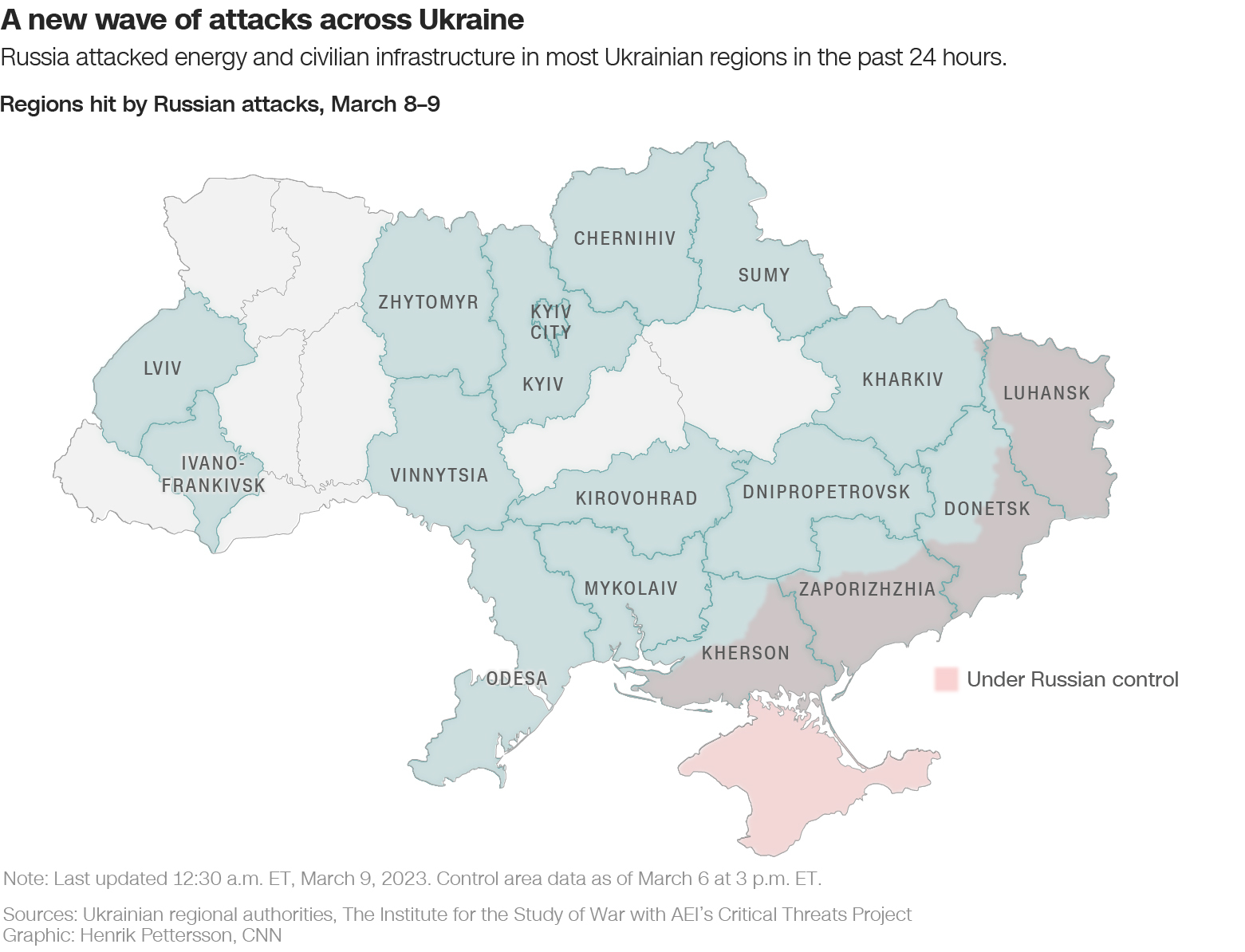 How Ukraine's defenses held up: "They are not coping well enough," an adviser to Ukrainian President Volodymyr Zelensky said.
The Kinzhal missiles are a specific challenge: They are immune to Ukraine's air defenses. An air-launched variant of the Iskander short-range ballistic missile (SRBM) which has also, more frequently, been used in Ukraine, the Kinzhal was unveiled by President Vladimir Putin in 2018 as a cornerstone of a modernized Russian arsenal.
Future attacks?: While Russia has deployed a handful of missiles that Ukraine is currently unable to stop, it appears unlikely that such attacks will become a regular or decisive feature of the conflict – because, by most Western assessments, Russia is running low on supplies.