Hong Kong
CNN
 — 

One of the world's most densely populated cities might seem an unlikely refuge for endangered wildlife.
But behind the concrete jungle of Hong Kong, where more than 7 million people mingle in a 430 square mile area home to more skyscrapers than New York city, lies one of the last holdouts for several exotic species of turtle.
Elsewhere in Asia, experts say, these species – prized for their use in Chinese medicine and as exotic pets – have been hunted to the brink of extinction. While in Hong Kong, the unlikeliness of the setting has enabled them to fly largely under poachers' radar.
Or at least, until recently. Even this haven now seems under threat. Experts say poaching incidents are rising dramatically as disappearing populations force poachers to cast their nets ever wider in search of a new supply.
"Hong Kong is one of the last bastions of turtle conservation in Asia," said Sung Yik-hei, an associate professor at Lingnan University. He has been monitoring the city's turtle population for more than a decade and estimates it has fallen by 60% to 80% during that time.
Publicizing the turtles' plight now may be his last chance to save them from extinction, he believes, even if it means breaking the secrecy that has shielded them for so long.
"Before, we didn't want to tell people we have turtle populations, or so-called robust potential populations," Sung said. "While we wanted to educate people about wild turtles, we were worried that a certain few people might become interested and go hunting."
Now though, he and his team of university conservationists think it is a matter of "now or never."
"The situation has come to a point where it cannot be worse," he said.
Hong Kong's endangered turtles
Beyond the postcard images of the sparkling offices and dazzling lights that have made Hong Kong famous lie the hinterlands of its New Territories just south of the border with mainland China.
It is a rural idyll of subtropical temperatures, abundant rivers and streams, and a relative lack of human development – exactly the sort of environment in which various species of freshwater turtle thrive, Sung says.
Many of the turtles here were once abundant in other parts of Asia, like Vietnam, Thailand, Taiwan and mainland China, but poaching has decimated their populations to the point that some species are now counted in their hundreds and mostly only in Hong Kong.
Sung monitors their nesting areas with a system of 40 surveillance cameras linked to his mobile phone. Where once he would have spotted 10 poaching incidents a year, six occurred in February 2023 alone.
"In all the streams I visited (on a recent trip), we observed signs of illegal turtle hunting. We found traps, or we know the turtles should be there, but we cannot find any," Sung said.
Among the populations he is fighting to preserve are the Golden coin turtle, a species once prized for medicinal purposes and used in turtle jelly but now in demand as an exotic pet whose rarity and strange looks have made it only more valuable to poachers. Buyers see the golden stripes on their heads as a symbol of prosperity and are willing in extreme cases to pay hundreds of thousands of US dollars.
Sung says there are thought to be around 100 left in Hong Kong – one of the world's last significant populations, he says.
Facing a similar plight is the Beale's eyed turtle, fewer than 200 of which are thought to be left in Hong Kong and an unknown – but thought to be very small – number in mainland China. These turtles have a pattern on the back of their head in the shape of two eyes – possibly an evolutionary trait, some scientists suggest, meant to scare off predators. Its unique looks have made it too a prize for exotic pet keepers, who pay hundreds of US dollars for it on the black market.
Then there is the Big-headed turtle, another strange-looking species that has become popular with those seeking an exotic pet. It has an eagle-like beak, a crocodile-like tail and a head so big it can't fit in its shell. A few hundred are left in Hong Kong, and perhaps even fewer in its other homes of Cambodia, Myanmar, Thailand and Vietnam. It can go for up to $1,000 on the illegal market.
None of the three turtles mentioned so far are suitable to be kept as pets. The Big-headed turtle is particularly unsuitable, Sung says, as for them to survive they would require elaborate enclosures to mimic their natural environments.
What's more, under Hong Kong law, possession of an endangered turtle is a criminal offense punishable by up to a maximum of 10 years in jail and a HK$10 million [$1.27 million] fine, depending on the species.
Yet they remain in popular demand and represent just the tip of the iceberg of the illegal trade in turtles in the city – which involves both endangered species and more common ones.
Citing public data, Hong Kong-based ADM Capital Foundation, a private research body, said city authorities have seized at least 17,900 live turtles and tortoises from illegal smugglers since 2015, when a speedboat ferrying more than 12,719 was intercepted, the largest batch ever detected.
Then there is a booming legal trade, with Hong Kong importing more than 4.3 million turtles and tortoises between 2015 and 2022, according to the research body.
Here, too, Hong Kong's density is a factor. Bowie Chan Wing-wai, 41, who runs the Hong Kong Reptile Channel on Facebook, said turtles and other small reptiles were popular in the city because many people lived in cramped living spaces and there was a perception that the animals could be kept in small enclosures.
But in many cases this ignored the reptiles' fundamental needs. "Take Brazilian turtles for example," Chan said, referring to a common breed seen in many local homes. "They may be tiny but they need the sun and clear water to survive that not many households can provide."
And even when turtles are traded legally, there can be gray areas.
Sam Inglis, ADM's wildlife program manager, said export records indicated just several hundred thousand of the 4.3 million imported between 2015 and 2022 were legally re-exported, suggesting that most had remained in the city, died, been consumed, or smuggled out of Hong Kong illegally. "The truth likely lies somewhere in the midst of these scenarios," he said.
Hong Kong's Agriculture, Fisheries and Conservation Department (AFCD) told CNN it spares "no effort in combating illegal hunting activities to protect wild animals" and has been working with the police and local animal welfare groups to patrol nesting areas and remove animal traps.
It said it had successfully prosecuted in 24 out of the 47 cases of wildlife hunting it had detected since 2020. During the same period, It succeeded in prosecuting in four out of the 38 cases related to possession of endangered freshwater turtles.
Still, some poachers remain undeterred and some activists argue their increasingly forceful methods – operating at night and often carrying weapons – mean the issue would be better handled by police than the AFCD. Sung took CNN to two sites where his cameras had been damaged, he believes by poachers.
Hong Kong police told CNN that AFCD was the "leading department" in combating poaching, while they provided assistance or took part in joint operations "upon request."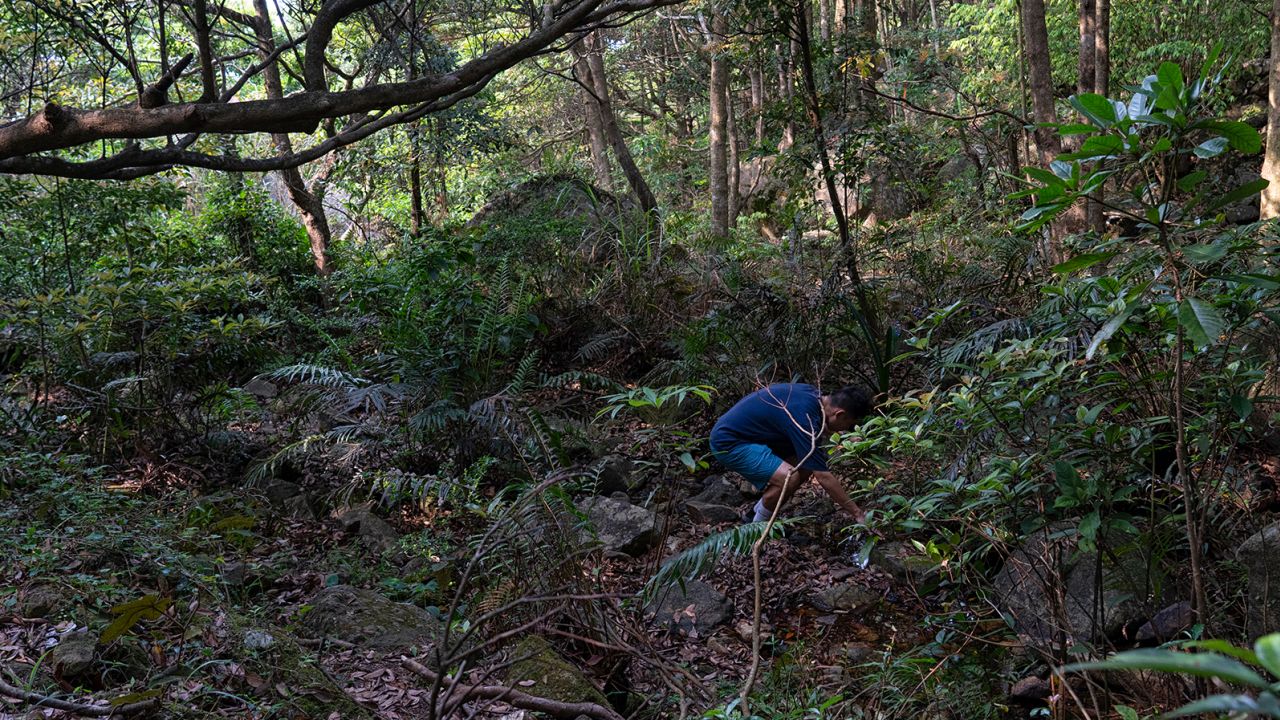 But Jovy Chan, manager of wildlife conservation at WWF Hong Kong, said effective enforcement would mean tracing the illegal money flows that kept the poaching industry afloat – something beyond the remit of the AFCD, which does not have the power to track bank accounts. Chan also believes legal changes are needed, as poaching activities are covered by a hodge-podge of legislation, not all of which carry the same penalties. The Wild Animals Protection Ordinance, for example, carries a maximum sentence of just one year in jail.
Changing the law is far beyond the remit of Sung and his researchers at the university. For now, they must do what they can to record the ever-dwindling numbers of these remarkable creatures.
There is much at stake, Sung said.
"If Hong Kong can do well….if we can get the police actively involved in anti-hunting, we can demonstrate to other places or the region, and mainland China, that this is actually possible," he said.
"If we don't make a change to patrol and enforcement systems they will be gone in a few years."