CNN
 — 

Records tumbled in Minjee Lee's wake at the US Women's Open on Sunday.
The Australian claimed the highest payout in women's golf history in Southern Pines, North Carolina, cruising to her second major triumph with a record-breaking performance worthy of the $1.8 million prize.
Lee headed into the last day riding the tide of an unprecedented first three rounds, shooting 67, 66, 67 to break Juli Inkster's 23-year-old record across 54 holes with a 13-under par 200.
The scintillating start meant that even a level-par 71 on the final round didn't stop the 26-year-old from breaking the 72-hole championship scoring record, pipping Inkster, In Gee Chun and Annika Sorenstam by one stroke with her 13-under 271 finish.
Leading by six shots at the 12th hole and finishing four strokes ahead of American Mina Harigae, her victory had looked to be a procession even before the Australian took to the final tee – but not to Lee.
"I was nervous as hell," Lee admitted to CNN's World Sport. "But it was pretty cool.
"Walking down that 18th hole … looking at all the crowd, looking at the finish line – it was just a really special moment."
In lifting the Harton S. Semple trophy, Lee became the first Australian to do so since Karrie Webb in 2001, and was rewarded for her efforts with a champagne shower courtesy of compatriot Hannah Green.
The other reward was the unprecedented $1.8 million prize pot. That sum alone eclipses Lee's winnings for her most profitable ever season in 2018, where 10 top five finishes over 27 LPGA events saw her claim over $1.5 million, based on figures from the LPGA website.
Second-placed Harigae earned the largest runner-up sum in women's golf history, taking home $1.08 million of the record $10 million overall prize purse.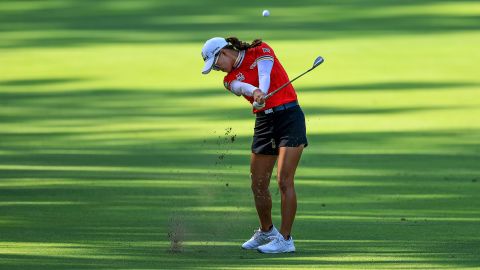 Though prize purses for women in the game still trail those of the men – Jon Rahm earned $2.25 million from a total $12.5 million purse for his US Open triumph in June 2021 – Lee sees progress being made.
"We're aiming for higher and higher each time," Lee said. "For the USGA and the US Open to step up and start that, it's a big step in the right direction.
"It's a great thing for the women's game and the LPGA."
Questions of money have dominated the golfing world this week with the lucrative inaugural LIV Golf Tournament set to tee off at the Centurion Club near London on Thursday.
The venture, backed by Saudi Arabia's Public Investment Fund, pledges to award $250 million in total prize money across eight tournaments. Former World No. 1 Dustin Johnson announced he was resigning from the PGA Tour to compete in the event.
While Lee admitted she hadn't been following the story closely, she understood the controversy the new event had attracted.
"I don't really know too much about that, obviously it's been a little bit controversial," Lee said.
"I guess it's just perspective on where you are in your life right now," she added.
Triumph in Southern Pines marked the second major of the Australian's career, adding to her triumph at the Evian Championship last year, and her eighth win on the LPGA Tour.
But despite the accolades, Lee is targeting a legacy beyond prize money and trophies – inspiring the next generation of young golfers.
"Hopefully they can watch me on TV and I can be a great role model for all the girls and boys all around the world to follow your dreams," Lee said. "You can do it. Anybody can do it.
"As long as you stick to your plan and stick to what you love then I think you're always going to be doing the right thing."
Her rise to become the No. 3 golfer in the world has been aided by the encouragement of her family, none more so than younger brother Min Woo Lee, a golf pro himself on the PGA Tour.
"This one hits hard. Tears in my eyes. So so proud," he tweeted following his sister's triumph, in just another example of the "great support" Lee's family have given her since she burst onto the scene with victory at the U.S Girls' Junior in 2012.
"They've been with me every step of the way and I've only always got encouragement from them," she said.
"If I wanted to practice, I could go practice. If I didn't then I didn't have to. They've just always been a great support and still are and it's just been a really great journey so far."