CNN
 — 

This year's G7 meeting in Japan holds special significance, not only for its location.
The leaders of the world's most advanced democracies are meeting in Hiroshima, the site of the world's first ever nuclear attack – a fitting reminder of the risks of nuclear war as they discuss Russia and the conflict in Ukraine.
China, just a short flight away, will also be on the agenda as they discuss its offer to play peacemaker, despite its close relationship with the aggressor.
There's a lot to get through before US President Joe Biden flies back to the US to deal with a looming debt ceiling crisis.
Here's what to watch:
Not far from the leaders' meeting venue is the Hiroshima Peace Memorial Museum, where dozens of timepieces are displayed, many still stopped at 8:16 a.m.
That was the time on August 6, 1945, that a US Army Air Force B-29 bomber dropped a single atomic bomb over the city, killing 70,000 people with its initial blast, and leaving tens of thousands of others to die slowly from burns or radiation-related illnesses.
The bomb, nicknamed "Little Boy," was the first step in a nuclear arms race that almost 80 years later sees a world with roughly 12,500 nuclear warheads – many of them exponentially more powerful than Little Boy – in possession of nine nuclear-armed countries, according to the Federation of American Scientists.
Two years after the bombing of Hiroshima and Nagasaki, some of the US scientists who developed those atomic weapons established the Doomsday Clock, an annual indicator of how close the world is to nuclear disaster.
According to the Bulletin of Atomic Scientists, "the Clock now stands at 90 seconds to midnight – the closest to global catastrophe it has ever been."
There are several reasons for that: China is building up its nuclear arsenal; North Korea has been testing nuclear-capable missiles at a record rate; Iran continues to move toward developing its own nuclear weapons.
But the Bulletin says the main reason the clock is at its most dangerous level is the biggest topic the G7 leaders will face in Hiroshima – Russia's war on Ukraine – and the potential for the conflict to escalate "by accident, intention, or miscalculation."
Russia's invasion of its western neighbor is now well into its second year.
Moscow's arsenal of almost 6,000 nuclear warheads always looms large, especially as the war has been in a stalemate – if not swinging in Ukraine's favor – as Kyiv's forces are bolstered by weapons supplied by most of the countries gathering in Hiroshima.
When Japanese Prime Minister Fumio Kishida – who hails from Hiroshima – visited Kyiv in March, Ukrainian President Volodymyr Zelensky praised him for keeping the G7 united behind Ukraine.
"Prime Minister Kishida stated that, as the G7 Presidency, Japan would maintain the unity of the G7 in imposing strict sanctions against Russia and providing support to Ukraine," a joint statement from the two leaders said.
Don't expect any cracks in G7 unity over Ukraine at the summit.
Britain has just delivered advanced missiles to Ukraine and is pledging to lead a coalition to provide Kyiv with F-16 fighter jets; Germany just announced its biggest aid package yet for Ukraine, $3 billion worth of tanks, armored vehicles, reconnaissance drones and ammunition; earlier this month, the US Defense Department announced a $1.2 billion package to bolster Ukraine's air defenses and artillery stockpiles.
The biggest challenge for the G7 leaders may be keeping that momentum going. Economic resources are not unlimited and all face domestic pressures as their countries continue to recover from the pandemic.
But US President Joe Biden seems unwavering.
"You remind us that freedom is priceless; it's worth fighting for as long as it takes," he told Zelensky in Kyiv in February. "And that's how long we're going to be with you, Mr. President: for as long as it takes."
About a thousand miles to the west of Hiroshima is Beijing, whose military buildup is a big concern for G7 host Kishida and Japan's most important ally, the United States.
With one eye on China and the other on North Korea, Kishida in December promised to double Tokyo's military budget. The plan could see Japan have the world's third-largest military budget, behind the US and China.
There doesn't seem to be any question Biden has Kishida's back when it comes to China. After all, tens of thousands of US troops are based in Japan, and the two allies in January announced a significant strengthening of their military relationship, with new US Marine units being set up to boost Japan's defense.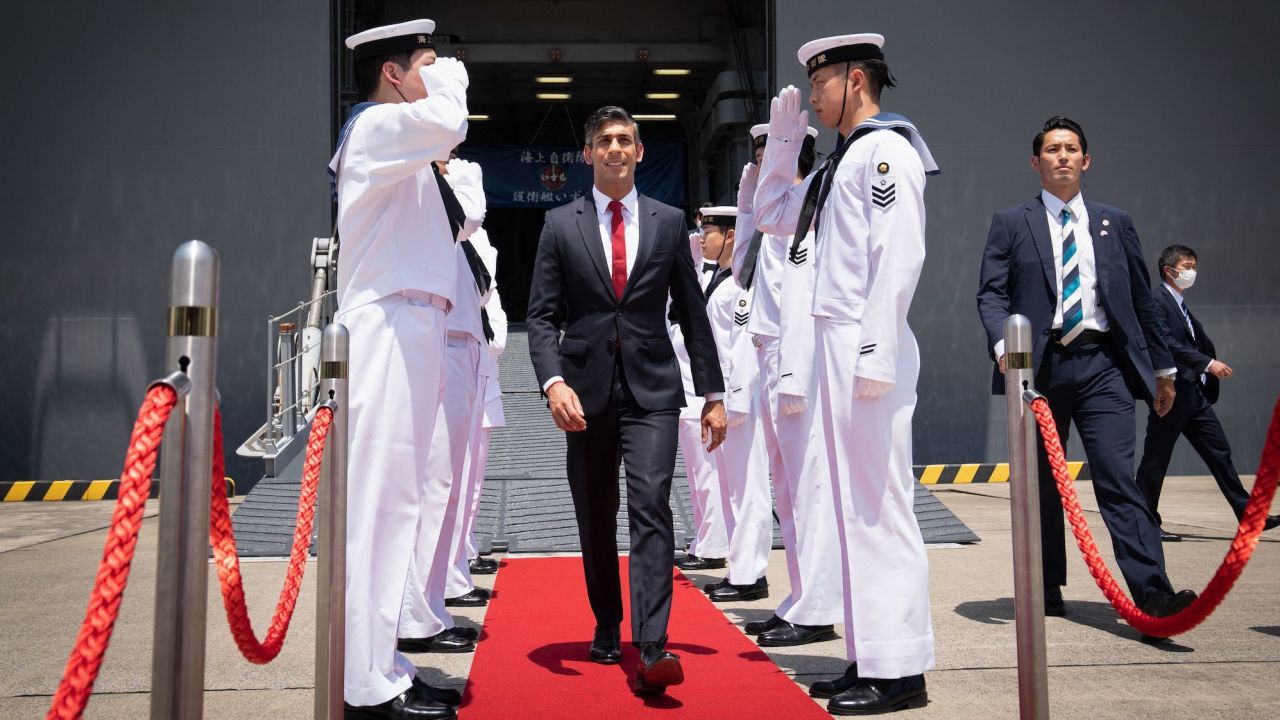 Britain too is strengthening military ties with Japan, announcing in January a "historic defense agreement" that would allow them to deploy forces in each other's countries.
One of Tokyo's biggest concerns with Beijing is its stance on Taiwan, the self-governed island over which the Chinese Communist Party claims sovereignty despite never having controlled it. Chinese leader Xi Jinping has not ruled out the use of force to bring Taiwan under Beijing's control.
In military exercises last August, Chinese missiles fell into Japan's exclusive economic zone in the vicinity of Japanese islands near Taiwan.
But the G7 isn't nearly as united on China as they are on Russia.
After French President Emmanuel Macron visited Beijing in April he said Europe must not become "just America's followers" when asked about the prospect of China invading Taiwan.
Europe must not get "caught up in crises that are not ours, which prevents it from building its strategic autonomy," Macron said.
That didn't go over well in the US and with some of Macron's European partners, and can be expected to be a topic of conversation, at least behind closed doors, at the G7.
The meeting in Hiroshima was supposed to be followed next week by a summit in Australia of the leaders of the informal Quad alliance: the US, Japan, India and Australia.
But with domestic economic concerns boiling in Washington, Biden said he would be needed at home right after the G7, so the Quad meeting has now been hastily arranged in Hiroshima.
Australian Prime Minister Anthony Albanese hopes the Quad discussions won't be a sideline event.
"The Quad is an important body and we want to make sure that it occurs at leadership level and we'll be having that discussion over the weekend," he said.
The meeting will be the third in-person leaders' gathering of the Quad. Known formally as the Quadrilateral Security Dialogue, the group was founded over 15 years ago but has seen increased prominence in recent years, in what analysts see as a response to China's increasingly assertive foreign policy.
The leaders are expected to discuss deepening their cooperation on a range of issues from critical and emerging technologies, to climate change and maritime domain awareness, according to a statement released by the White House last month.
Biden cutting his Pacific trip short provides some symbolism in itself, that for all the talk of new economic orders in the world, the US economy remains the most significant force.
The US president said he could not justify the trip to Australia, with a stopover in Papua New Guinea, because his presence in Washington could help get the US Congress to pass legislation raising the US government's debt ceiling.
Should Congress fail to do so by June 1, and the US government default on its debt, the effects could could shred the US economy and imperil the financial security of millions of Americans.
It would ripple around the world. According to the Congressional Research Service, about 30% of US government debt is held by foreigners with interest paid on that 30% of the debt totaling $184.4 billion in 2022.
Two of the biggest holders of that debt, Japan and Britain, will be at the table with Biden in Hiroshima.